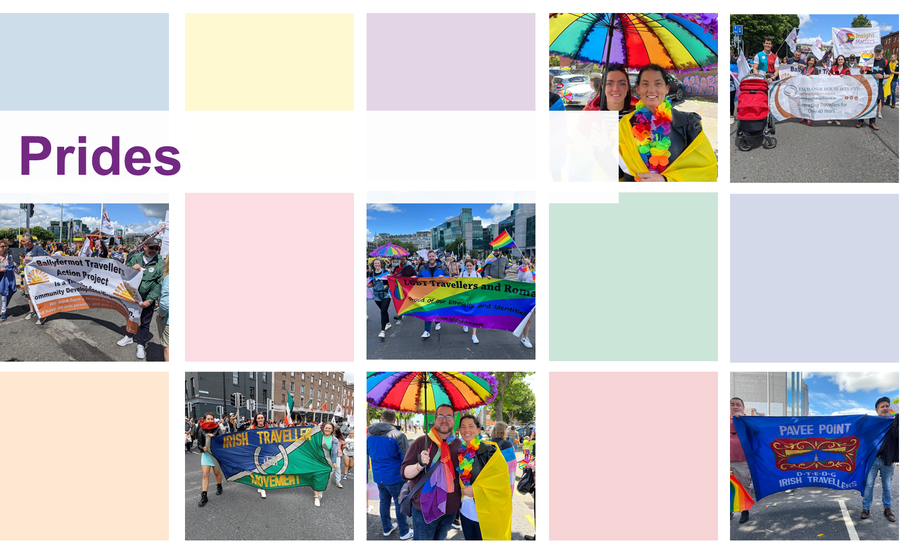 Dublin Pride
Every year on the third weekend of June, the National Action Group for LGBTI+ Traveller and Roma Rights participates in the Dublin Pride Parade.
LGBTI+ Travellers & Roma, our members & allies walk together to celebrate Community Pride, Family Pride, LGBTI+ Pride and Traveller & Roma Pride!
See our Pride gallery for info and photos about this year's prides and past parades.
Dublin Pride 2023

Dublin Pride 2023 will be on Saturday, 24th June 2023. SAVE THE DATE.

More info

Dublin Pride 2022

In 2022 we walked right in the front of the parade.

Gallery

Dublin Pride 2019

Look at photos from the last Pride Parade before Covid.

Gallery
Other Prides
We also engage in Prides nationwide as much as we can:
Trans- and Intersex Pride Dublin 2022

Long-term Ally Mary McDonagh read out a speech by Trans Traveller Mike at the Trans- and Intersex Pride in Dublin in July 2022.

Learn more

Galway Pride 2022

In August 2022, the National Action Group for LGBTI+ Traveller and Roma Rights proudly walked with the Galway Traveller Movement in Galway's Pride Parade.

Gallery

Sligo Pride 2022

Learn more about the LGBTI+ Traveller and Roma event during Sligo Pride 2022.

Learn more